This recipe came to me this summer when thinking about a dessert to make for a dinner party. I love Olive Oil cakes and I love upside-down cakes, so I thought this would be a nice take on both types. It started as more of an experiment, I wasn't sure if it would work or even taste good. In fact the first time I made it I thought I ruined it and almost threw out the entire cake before baking it. Luckily my husband was in the room and talked me off the cliff 😉
To my surprise the cake turned out fantastic! The flavors are so fresh and the cake was so moist. This dessert is the perfect summer treat!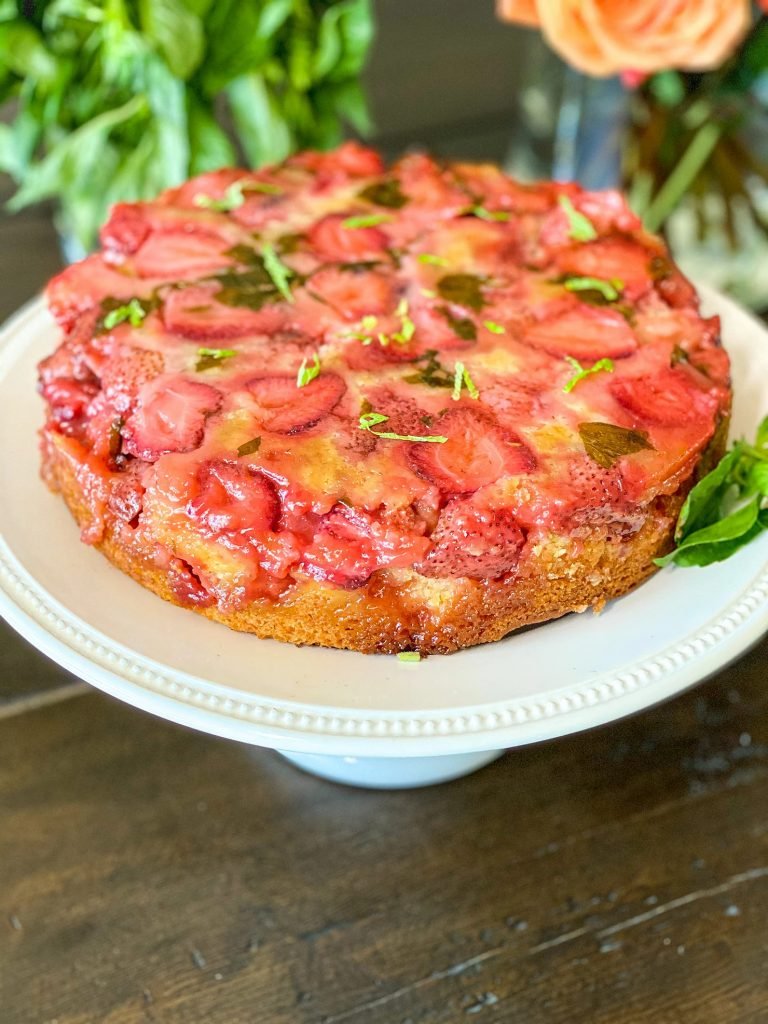 Ingredients
Topping:
1 16oz package of strawberries, stemmed and cut in half
1/4 cup basil chopped
1/2 lemon juiced
1/4 cup sugar
2 tbsp butter
Cake:
2 cups all-purpose flour
1 2/3 cup sugar
1/2 stick of butter, melted
1 tsp sea salt
1 tsp baking powder
1/2 tsp baking soda
2/3 cup milk
2/3 cup olive oil
3 eggs
1 tsp lemon juice
1/4 cup orange juice
2 tbsp orange zest
1 tsp lemon zest
Directions:
Pre-heat your oven to 350 degrees. Grease one 9 inch cake pan or spring form pan.
Start by making your topping. In a pan over medium heat melt your butter and then add your sugar and let it melt into the butter. Careful your pan is not too hot, you don't want the sugar to brown. When the sugar is combined with the butter about 3 minutes or so (you will still see some lumps) pour the mixture into the bottom of your cake pan and coat evenly.
Next, place your strawberries, basil, and lemon juice in a bowl and mix well. Pour the berries onto your sugar mixture in the cake pan. spread evenly and make sure they are all packed in their nicely. You almost wan to press the strawberry halves into the sugar mixture and make sure they are uniform. If you do have some loose berries floating around, you can try to squeeze them in or just remove them.
Set aside until ready to use.
Now it's time to make your cake batter. Start by combining the dry ingredients in a medium bowl. Using a whisk, mix the ingredients together.
In a large bowl, mix the wet ingredients together. Fold in the dry ingredients to the wet ingredients. Mix well! When your batter is well combined pour it into your cake pan, over the strawberries.
Using a cookie sheet, place a large piece of foil on the sheet and then place your cake pan on top. This will help collect any leeks or spills from the pan, especially if you're using a spring form pan.
Place your pan in the oven and bake for 45-60 minutes, or until your knife comes out clean.
When cake is done baking remove from the oven and let it cool for about 30 minutes.
When cake is completely cool, using a knife go around your cake pan to help release the cake from the edges. Turn upside down over a cake plate so the bottom of the cake is now on the top. Voila! You will have a beautiful upside-down cake!!
Garnish with some torn basil and serve with a nice vanilla gelato.