This dish is so yummy! It takes a few steps to make, but the results are incredible. I personally am not much of a stuffed peppers fan, so when I was thinking about the creation of this dish I knew I wanted something full of flavor and texture. This dish has it all! I usually will make a large batch to make sure I have leftovers all week. Serve this dish over ranchero beans.Serves: 4 people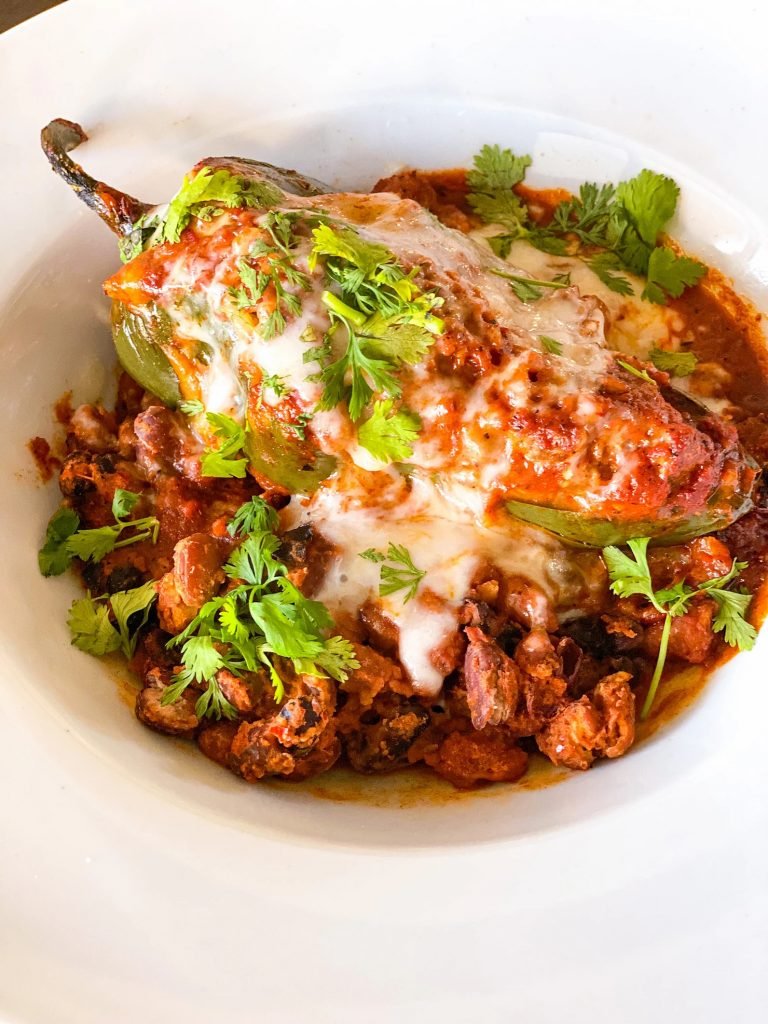 Prep/Cook time: 90 minutes
Ingredients:
4-6 Pasilla peppers
Olive oil
1 pound of ground chorizo
1 1/2 cups of cooked white rice
4 dried Guajillo peppers (Can buy on amazon)
2-3 cups of Mexican cheese blend
6 vine ripened tomatoes
1/2 of a white onion
One clove of garlic
1 Serrano Chile
1 jalapeño
2 sprigs of fresh oregano
1 bay leaf
2 cups of chicken stock
1 can of Chile beans
1 can of black beans
Salt and pepper for taste
Cilantro for garnish
Directions:
Cover a bbq safe pan with tin foil and place your tomatoes, garlic, onion, jalapeño, and Serrano peppers inside of it. Drizzle olive oil on the vegetables and sprinkle with salt and pepper.
Place on the bbq over medium heat. Continue to check the vegetables to make sure they don't burn. You want them soft and just a little blackened. I would say about 15 min. While the veggies are cooking, clean your Pasilla peppers and place on a cutting board. Cut a slit down the front of the pepper and remove all of the seeds. Set aside until ready to use.
Meanwhile, put your Guajillo peppers in a hot, dry pan for two minutes. Turn once. Get them a little charred on both sides. Place in a bowl and pour very hot or boiling water on top. Let them soak for about 15-20 min.
While veggies are cooking and Chile's are soaking, make your chorizo. Heat a pan over medium high heat, drizzle a little bit of olive oil and place ground chorizo in the pan. Breaking it up into pieces with a wooden spoon as it cooks. When nice and brown add your rice. Start little by little being careful not to add too much rice. Once the rice and chorizo are mixed together, remove from heat.
Let the mixture cool a bit and then mix in 1 1/2 cup of Mexican cheese. Set aside.
Get your veggies from the grill once done cooking. Add to a stock pot. Take your Guajillo peppers out of the water clean seeds out, place in the stock pot with veggies.
Add your chicken stock, bay leaf, and oregano. Bring to a boil over medium high heat. Once it boils, cover and reduce heat to a simmer.
Preheat your oven to 400 degrees.
Stuff the rice and chorizo mixture inside to fill the entire pepper. Place the peppers in a large baking dish.
After the sauce has simmered for about 15-20 min remove your bay leaf and oregano. Use a hand held blender (if you have one) or place in a blender or food processor and purée. You should wind up with a nice thick sauce. Taste, add salt and pepper if needed.
Save about 1 cup of sauce for your beans.
Pour the sauce over the peppers, sprinkle with the remaining cheese. Add more if desired. Place in the oven and bake for about 30-35 min. Test the pepper after about 20 min to see if the pepper is soft. If the cheese gets too brown you can place foil over it so it doesn't burn.
While peppers are cooking, drain and rinse your beans. Place in a medium pot over medium heat. Add the 1 cup of leftover sauce to your beans and bring to a boil. Reduce heat to low and let simmer for a few minutes. Add salt/pepper if needed. Keep beans warm until ready to use.
When peppers have finished cooking, add your beans to a plate and then place your pepper on top. Garnish with chopped cilantro and serve. Bon Appetite!