Plantain Crusted Fish is a white fish that is topped with a fresh red chili sauce, then served with a creamy coconut rice. This recipe is healthy yet delicious and can be cooked in 40 minutes or less. The plantain chips offer a gluten free crust to the fish that is crunchy and a little bit salty. The chips are mixed with cilantro and crushed red pepper to give the crust some nice flavor. Then topped with a fresh chili sauce, gives this dish even more flair. Creamy coconut rice is served on the side to add a nice balance to the spice. Plantain Crusted Fish is perfect for anyone who has dietary restrictions but doesn't want to skimp on taste.
What fish can be used to make plantain crusted fish?
White fish is what is recommended for this recipe. The fish filets that are used in the recipe above is grouper. Really any white fish can be used. Some examples of white fish to use in this dish are, sea-bass, grouper, tilapia, halibut, etc. Check out your local grocery store or fish market to see what types of fish they offer.
Is the chili sauce very spicy?
Using red chilis to make this sauce may sound like the dish has some heat to it, but the sauce is actually mild and not overwhelming. To cut down on spice you can always remove one chili and/or the crushed red pepper. The coconut rice really helps to balance out the spice of the fish and sauce.
How long should the Chili sauce sit?
This sauce is so good and full of flavor! The best part about this sauce is that the longer it sits the more the flavors meld together to make a delicious sauce. For a quick meal make the sauce first and let it sit while the fish and the rice cook.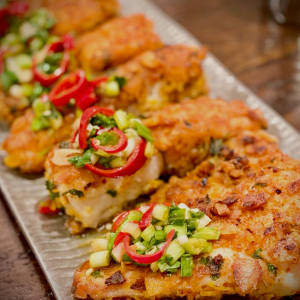 Chile fish with plantain crust and coconut rice
White fish breaded in a plantain crust and then pan fried to create a crunchy coating. Topped with a fresh chile and garlic sauce. Served with a side of coconut rice.
Ingredients
4

filets

white fish

can be any white fish that is preferred

2

fresh

red chiles- chopped

1

bunch

green onions- chopped

3

cloves

garlic-sliced

2

tbsp

cilantro- chopped

1 1/2

tbsp

fish sauce

1

tbsp

honey

3

tbsp

olive oil

1

tbsp

lime juice

1

tsp

rice wine vinegar

1

pinch

salt

2

cups

plantain chips- crushed

1/4

cup

chopped cilantro

1

tbsp

crushed red pepper

1

tsp

fish sauce

3

eggs-lightly beaten

avocado oil for frying

1 1/2

cup

white rice

1

can

coconut milk

1 1/4

cup

water
Instructions
In a small/medium bowl or mortar add chiles and garlic. Using a pestle or spoon, mash up the garlic and chiles to release all of the flavors. Add a pinch of salt and honey to the bowl and continue to mash the mixture. Next, add fish sauce, green onions, and olive oil. Continue to mix until all of the ingredients are well incorporated. Last, mix in cilantro and 1 tbsp of lime juice. Set the chile sauce aside until ready to use.

Place plantain chips in a large ziploc bag. Using a mallet smash the chips in the bag to create crumbs. The crumbs don't need to be super fine, but you want them to be small enough to create a breading on the fish. Add crushed red pepper and chopped cilantro to the plantain crumbs and mix well. In another bowl lightly beat eggs and 1 tsp of fish sauce together.

Place a large pan over medium/high heat and drizzle avocado oil to coat the bottom. You want the pan to be pretty hot in order to get your crust nice and golden. Taking your fish filets one at a time, dip them into the egg mixture and then roll the fish in the plantain mixture. Place each piece of fish in the hot pan. Adjust the heat if the pan gets too hot. Continue this process until all of the fish filets are used.

Fry the fish until the crust is a golden brown in color, about 5-7 minutes on each side. When the crust has turned golden on one side flip onto the other side and continue cooking.

While the fish is cooking, place rice, water and coconut milk in a medium pot over high heat. Bring to a boil and cover with a lid. Reduce heat to low and cook for 15 minutes. Once rice is done cooking, place in a serving bowl.

When fish is done cooking place each filet on a plate and sprinkle with lime juice. Add the chile sauce to the fish and serve with coconut rice.