White fish that's baked in white wine, garlic, cherry tomatoes, and basil. Mediterranean Fish is the perfect one pot meal that is quick, easy, and healthy. Full of flavor and texture this recipe is a pleaser for any palate or diet. Being gluten free and low inflammatory, Mediterranean Fish is great for the individuals that need to be health conscious. From start to finish this recipe is prepared in 30 minutes. The ideal meal for anyone who's short on time. Served with quinoa on the side and garnished with fresh lemon slices and chopped parsley.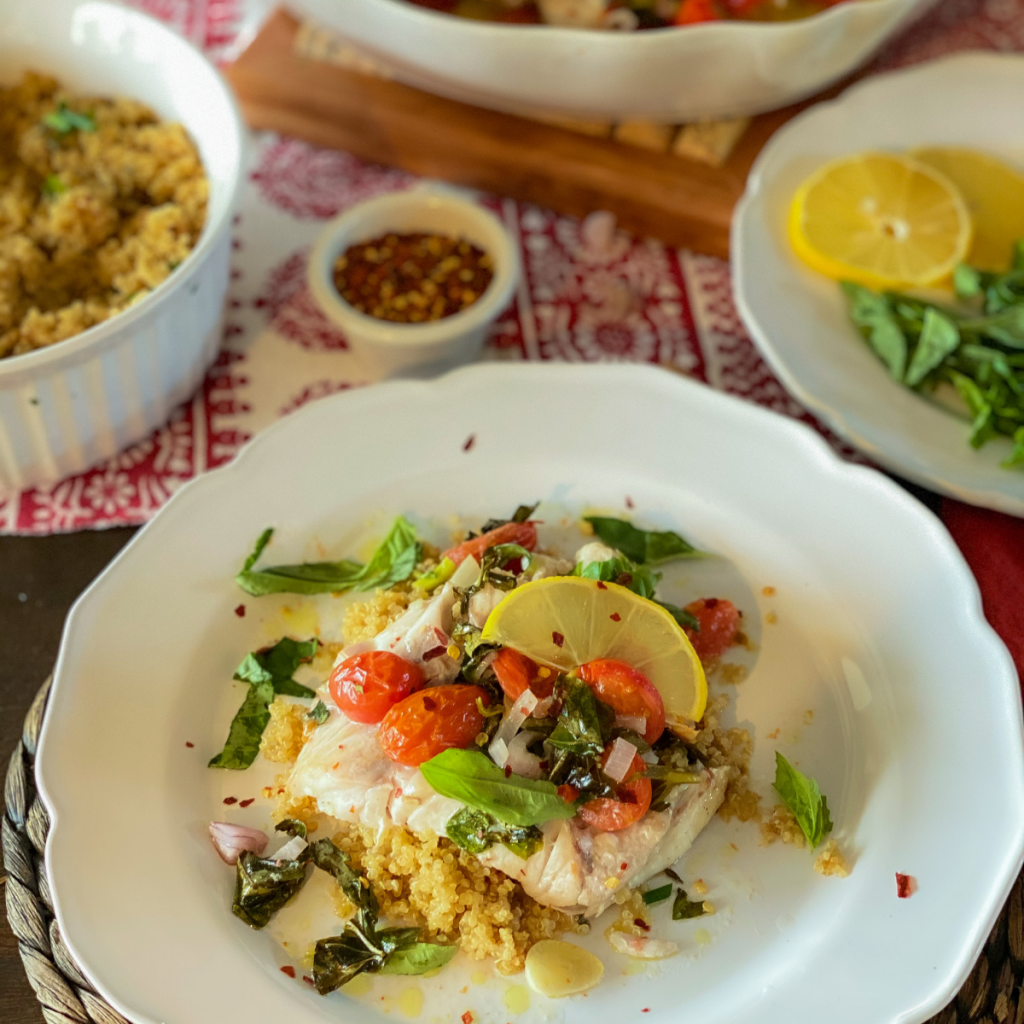 How do you bake fish without drying it out?
The best way to bake fish without drying it out is to bake the fish with a little bit of liquid and butter/olive oil. This recipe incorporates both to help keep the fish moist and buttery so it doesn't dry out. You can also place foil over the baking dish to help the fish steam in the liquid.
What fish can I use for this recipe?
Mediterranean Fish recipe is great because any white fish can be used. White fish is recommended when making this recipe. You could also use shrimp, scallops, crab, lobster. Any of these fish would work great with this recipe. Examples of white fish would be; Halibut, Sea Bass, Branzino, Grouper, Swordfish, etc.
What can I serve with this recipe?
The Mediterranean Fish recipe is shown with quinoa, but you can also create different side dishes to be served with it. Fresh pasta or rice would work very well with this recipe. Risotto or herbed potatoes would also work well. This recipe is meant to be a healthier option for individuals, but the quinoa can be substituted for the options above.
Mediterranean Fish
Fresh Grouper baked in white wine, garlic, tomatoes, and basil. Served with a side of herb quinoa.
Ingredients
5

Grouper filets

or any white fish filets

1

cup

cherry tomatoes-halved

2

cloves

garlic- sliced

1/4

cup

olive oil

1/2

cup

white wine

Chardonnay, Pinot Grigio

2

shallots- halved and then sliced

1/2

cup

basil-chopped

3

tbsp

butter-

1

cup

quinoa

2

cups

chicken broth

1

tbsp

sea salt

1

tbsp

ground pepper
Instructions
Pre-heat oven to 375 degrees.

Place fish filets in a large baking pan and season with salt and pepper on both sides. Sprinkle garlic, shallots, tomatoes and basil on top.

Pour white wine and olive oil over the the fish. Place pieces of butter on each individual filet.

Place the fish in the oven and bake for 20 minutes.

While fish is baking make your quinoa. In a medium pot over high heat add quinoa and chicken stock. Stir to combine. Bring mixture to a boil and then cover with a lid and reduce heat to low. Simmer for 15 minutes until all of the liquid has been absorbed.

When fish is done baking remove from the oven and let it rest for a few minutes. To plate add a scoop of quinoa and then add a filet on top. Spoon the tomato mixture over the fish. Make sure to add some of the sauce as well.

To garnish add chopped parsley and sliced lemon.