Moroccan Chicken is a beautiful dish that consists of so many unique flavors and spices. Organic chicken thighs are simmered in a rich sauce bursting with hints of cinnamon, coriander, ginger, cumin and fennel seed. Savory sweet potatoes are added to bring a heartiness and comfort to this dish that is sure to warm anyone's soul. This one pot recipe is easy to cook in your own kitchen. Place all of your ingredients in the pot, saute for a few minutes and then let it simmer. Perfect for the home cook that doesn't have a lot of time to spend in the kitchen.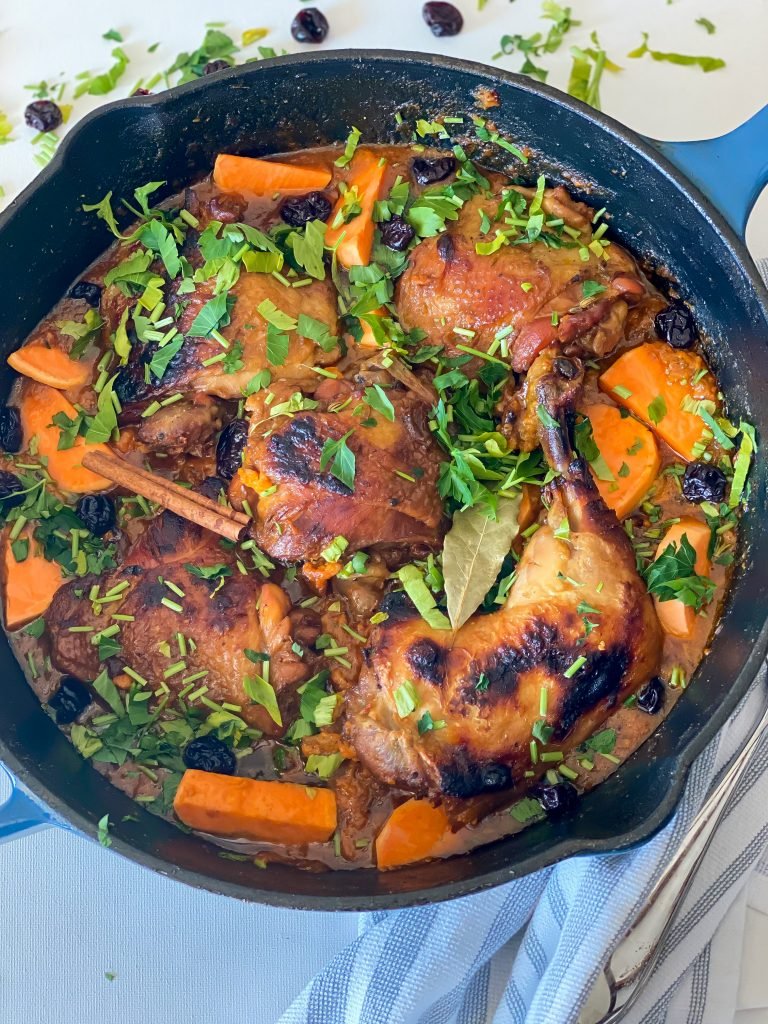 Where do I purchase theses spices?
This recipe definitely has a lot of spices in the ingredient list. Most of the spices in this dish can be found at any local grocery store. I always buy organic because I know that the quality is good, but you don't have to. If you're a prime member you can always but the spices from Amazon and have them shipped to your home. If you have a hard time finding Saffron at the grocery store, you may look at a specialty grocer in your area.
Does the dish need to cook for the full two hours?
No, you can stop cooking the dish at an hour and a half. I like to cook it for the full amount of time so the chicken becomes nice and tender. Its so delicious it just falls right off of the bone. On thing to remember when cutting your sweet potatoes is to keep them a little on the thicker side so they don't become too mushy.
Moroccan Chicken
Organic chicken thighs and sweet potatoes simmered in a sauce consisting of ground ginger, coriander, cumin seeds, fennel seeds, paprika, and dried red cherries.
Ingredients
2

packages

chicken thighs

1

onion- loosely sliced

4

small

sweet potatoes- peeled and quartered

2

cloves

garlic- chopped

1

tbsp

ground ginger

1

tbsp

ground coriander

1

tsp

paprika

1

tsp

cumin seeds

1

tsp

fennel seeds

1

pinch

saffron threads

can be found at any spice shop or food store

1

bay leaf

1

cinnamon stick

1

tbsp

tomato paste

2

cups

chicken broth

1/4

cup

dried cherries

1/2

cup

fresh parsley-chopped

avocado oil for drizzling

salt/pepper for taste
Instructions
Place a large pan over medium/high heat. Drizzle avocado oil on the bottom of the pan. Sprinkle salt and pepper on both sides of the chicken thighs. When pan is hot place the chicken thighs skin side down in the pan to brown. When skin side is golden flip the thigh over and brown the other side.

When chicken is brown remove the thighs and place on a plate. If pan is dry add a touch more avocado oil. Place onion in the pan and saute. Reduce heat to medium and then add garlic cloves. Saute for a few minutes to release all of the flavors and aromas. Next, add fennel seeds, cumin seeds, paprika, ginger, and coriander. Mix all of the spices into the onion mixture. Add bay leaf, saffron, cinnamon, and tomato paste to the pan. Saute for a few minutes to allow all of the ingredients to combine. Last, add your potatoes and chicken thighs back to the pan. Pour chicken stock over top, cover with a fitted lid and reduce heat to low. Let the chicken simmer for 1 1/2 -2 hours.

When chicken is done cooking turn off the heat and sprinkle with fresh parsley. Serve the chicken with a side of white or brown rice.