Salmon Cakes made with wild caught salmon, fresh ginger, garlic, green onion and red chili are full of flavor and freshness. Served with a delicious chili yogurt sauce on the side that is so good you will want to finish every ounce. This fresh take on a classic recipe is definitely worth trying, it's not only super tasty, but is easy and quick to whip up. In less than 30 minutes you can have a healthy meal that tastes great and satisfies even your pickiest eater. Serve these as a main dish or as an appetizer for your next gathering. Just a a little advice, you may want to make a double batch because these Salmon cakes will go fast.
What kind of salmon can I use for this recipe?
Canned salmon is what is used in this recipe. Wild caught salmon is recommended for the salmon cakes because of its freshness. Check your local grocery store to see if they carry it. If you can't find wild caught salmon regular canned salmon will work as well.
Can a different kind of fish be used for this recipe?
Yes, canned tuna can be used for this recipe if you prefer. Both types of fish will work well for the fish cakes. It really comes down to individual taste and preference.
How to keep salmon cakes from falling apart?
The best way to keep the salmon cakes together is by making sure not to add too much liquid. The eggs will help to bind the cake together. Also, make sure that you allow the salmon cakes to cook fully on each side. Turning them over too soon can cause them to fall apart.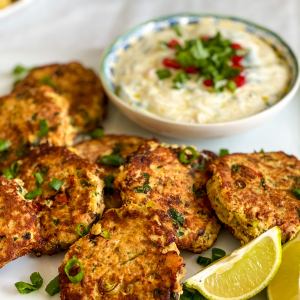 Salmon Cakes with Chili Yogurt Sauce
Wild caught canned salmon mixed with fresh ginger, garlic, cilantro, green onion, red chili, and turmeric curry paste. Then fried in a pan until crispy. Served with a side of chili and cilantro yogurt sauce
Ingredients
14

oz can

wild caught salmon

2

inch

ginger piece- grated

2

cloves

garlic- grated

1/2

cup

cilantro- chopped

1

red chili- chopped and seeds removed

use half for the salmon cakes and the other half for the yogurt sauce

1

bunch

green onion- white parts only

save the green part of the onions for yogurt sauce

4

tbsp

fish sauce

1

tsp

lime juice

1

tbsp

turmeric curry paste

found at whole foods (optional)

1/2

cup

greek yogurt

1/4

cup

olive oil

salt/pepper for taste

avocado oil

for frying
Instructions
In a large bowl add salmon, white part of the green onion, grated ginger, grated garlic, 1/2 of the chopped red chili, 1/2 of the cilantro, lime juice, 2 tbsp fish sauce, and eggs. Using your hands or a spoon mix well to combine all of these ingredients.

Place a large pan over medium/high heat and drizzle with avocado oil. Using your hands scoop the salmon mixture in a small/medium lump and form into a patty then place on a clean plate. Continue this process until all of the mixture is used. When the pan is hot place the patties in the skillet clockwise. Let the patties cook for about 5 minutes, or until golden on one side. When this result is achieved flip the patty and cook the other side.

When the patties are all nicely browned place them all on a plate and set aside until ready to use.

In the same pan place olive oil, green part of the onions, remaining 2 tbsp of fish sauce and remaining red chili. Saute for a few minutes until onions and chili mixture are cooked. Remove from the heat and place in a small bowl. Mix in greek yogurt and cilantro. Sir until everything is combined. Taste and add salt if needed.

Place the yogurt sauce in small serving bowl. Place the bowl on a large serving plate and surround the salmon cakes around the sauce. Garnish with green onion, cilantro and fresh limes.