What is Naan? Naan is a flatbread that originated in India. It's soft and fluffy with a little bit of crispiness on the outside. It's perfect for scooping up Indian food so you can eat it all in one bite. Normally,  a recipe uses yeast to help the dough rise and takes hours to make, but this recipe is a quick and simple version that can be ready in about 30 minutes. Use this Naan recipe with any cuisine and top with your favorite ingredients to add flavor and variety. It's the perfect addition to any great meal!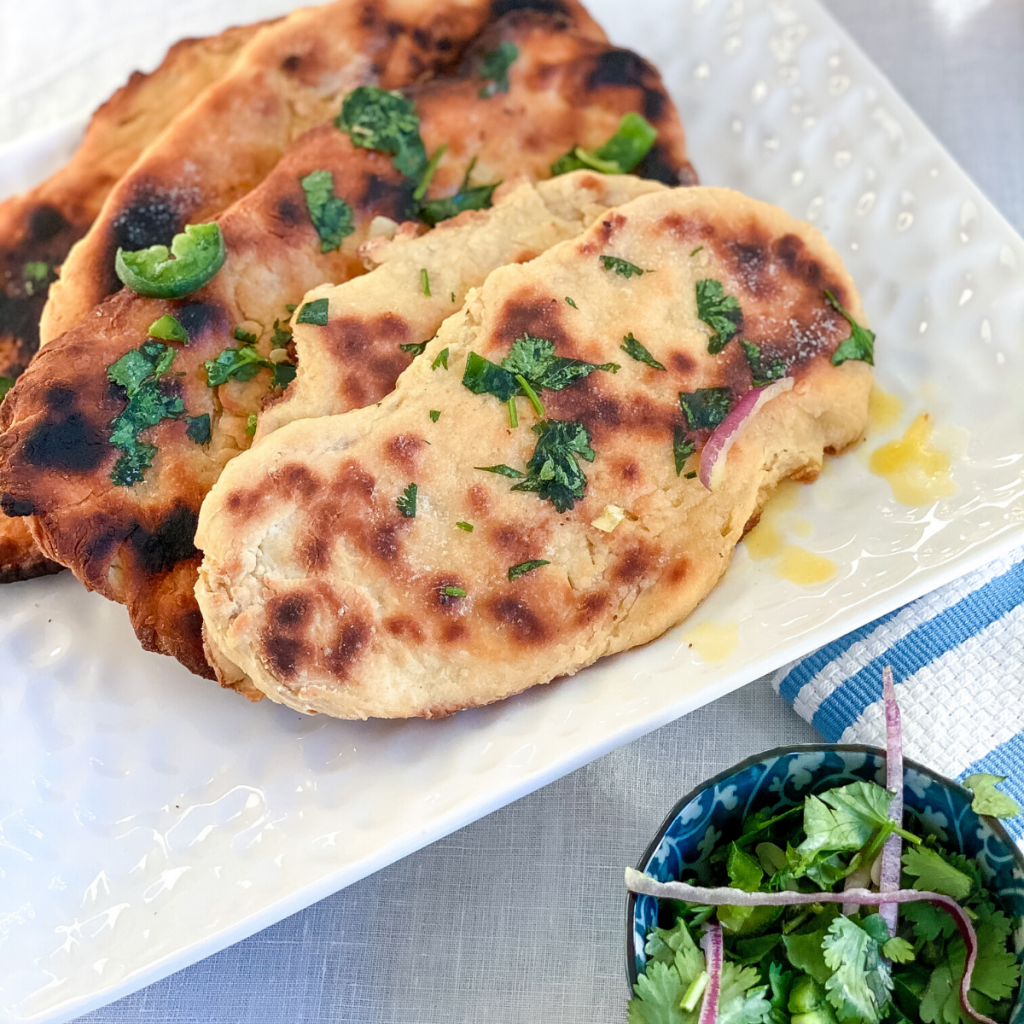 What are the ingredients in Naan?
The ingredients that make up Naan are simple, just flour, egg, milk, butter, and, oil. There are other recipes out there that have more ingredients and require more time, but this recipe is simplified making it easy to quickly create with any meal.
How long will it take to make this recipe?
It takes about 30 minutes to make this recipe from start to finish. This Naan recipe uses ingredients that can be found in your pantry. Normally Naan recipes are time consuming, but this recipe is one of the easiest to create in your own kitchen.
Easy Naan (flatbread)
Soft and fluffy flatbreads that can be eaten with just about anything. This recipe is so easy that you can whip them up in no time at all.
Ingredients
1

egg

3

tbsp

honey

1

cup

milk

I use oat milk, but any milk works

2

cups

flour

organic is best

1

tsp

salt

1

tbsp

baking powder

2

tbsp

butter

2

tbsp

avocado oil
Instructions
Preheat your oven to 450 degrees. Place a cookie sheet in the oven to get hot. This method would also work on your grill.

In a large bowl mix your dry ingredients together, flour, salt, and baking powder.

In a second bowl mix the egg, milk, honey, and butter together. Slowly knead this mixture into the flour mixture until well combined. Add the oil and knead for a just a few minutes to ensure that you don't over work the dough.

Let the dough rest with a damp cloth for 20 minutes.

Divide the dough into 8 equal balls and roll into circles that are about 3-4 inches in diameter.

Place the circles of dough on the hot cookie sheet and lightly brush with olive oil or butter. Place in the oven or on your grill and let them bake for about 2 minutes and then check to see if the side that is on the pan is browning. When this happens flip to the other side to ensure both sides are cooked. Bake for an additional 2 minutes. You want the flatbreads to bake for a total of 4-5 minutes depending on thickness.
Notes
If the dough is too wet add a little bit more flour to compensate.