Anyone who loves French Onion Soup knows that no French Onion Soup tastes the same. You could go to several restaurants or look up several different recipes and find that they are all different. Over the years I have made many different recipes, some simple and others much more complex. Finally, I have come up with a recipe that is simply delicious! It's not complicated and the flavors are incredible. Yellow onions are sautéed until caramelized and then deglazed with Brandy. A vegetable based beef stock is then poured over the onion mixture and then simmered with herbs until all of the flavors meld. The onion broth is then poured over parmesan croutons and topped with a mound of gruyere and parmesan cheese mixture. The soup is placed under the broiler until the cheese is bubbly and hot. This soup is melt in your mouth good.
The best part about French Onion Soup with Brandy is that it requires little to no effort and has very minimal ingredients. It's the perfect addition to any salad or sandwich, making it a great weeknight meal.
How do you caramelize onions? 
To caramelize the onions you want to start by slicing them to the perfect size. You don't want the onion to be too thick or too thin, but definitely on the thinner side. The key to getting the perfect caramelized onion is to make sure the pot is not too hot and that it's not too dry. I have found that not having enough butter/oil in the pot can make the onions burn and get crispy. When starting out place the onions in the pot and then cover them and let them cook for about 15 minutes until the onions are soft and opaque.
Next, remove the lid and turn the heat up a little bit to let the onions cook for another 30 minutes until they get that nice caramel color.
Can gluten free bread be used for the croutons?
Yes, gluten free bread can be used instead of regular bread. Gluten free bread was used in this recipe and you couldn't tell a difference. If you aren't gluten free then you can use a french crusty bread. Make sure the slices aren't too thick because it will over power the soup. The parmesan croutons add so much flavor to the soup and are really enjoyable.
Does Brandy have to be used in this recipe? 
No, you can use cognac or vermouth instead. Brandy or cognac is preferred for this specific recipe though. It doesn't have to be an expensive brand, but make sure that it is good quality and something that you would drink.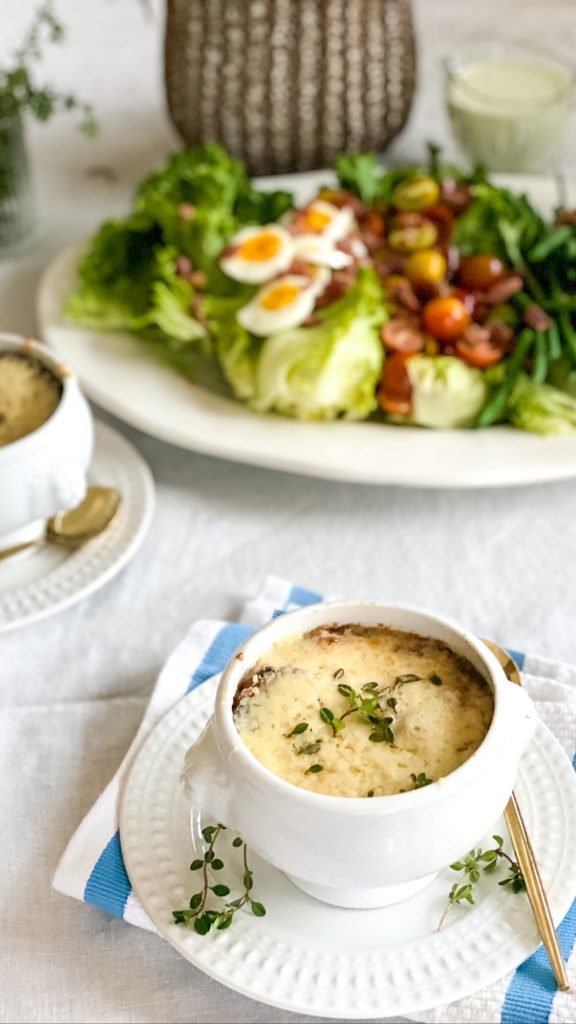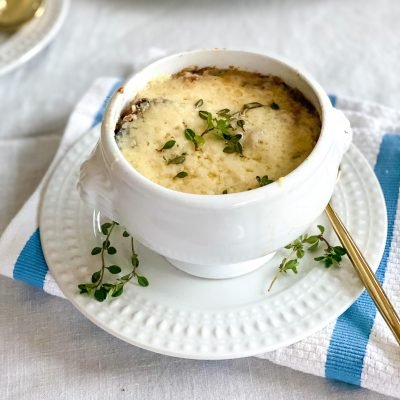 French Onion Soup
Yellow onions sautéed until caramelized and then simmered in a beef stock with hint of brandy, before being poured over parmesan croutons, then topped with gruyere and parmesan cheese.
Ingredients
3

yellow onions- cut in half and then sliced thin

2-3

tbsp

brandy or cognac

3

tbsp

butter

3

tbsp

avocado oil

1

bay leaf

2-3

sprigs

fresh thyme

2

cloves

garlic- chopped

5

cups

beef broth

vegetarian based beef bouillon can be used

4

slices

french bread

smaller in size

4

tbsp

parmesan cheese

8

oz

gruyere cheese- shredded

1/2

cup

parmesan cheese- shredded

Salt and pepper for taste

cayenne pepper for taste

(optional)
Instructions
Place butter and oil in a medium pot over medium heat. When butter is melted add onions, stirring to coat in the butter mixture. Place a lid over the top of the pot and let the onions simmer for about 15 minutes, until onions are opaque and softened.

When 15 minutes is up, remove the lid and let the onions saute in the pot. You cant turn the heat up just a bit to help them caramelize. Let them cook for another 20-30 minutes. Be sure to continue stirring to scrape up all of the brown bits. If pot becomes dry add a little more oil to help prevent the onions from frying in the pot. Season with salt and pepper.

Once onions are caramelized add garlic and saute for a minute or two to release the flavors. Next, add brandy or cognac to the pot and let the onions deglaze. After about 5 minutes or so add the broth, bay leaf and, thyme to your pot. Bring to a boil and then cover and reduce heat to low. Let the soup simmer for 15 minutes.

While soup is simmering place bread slices on a cookie sheet. Sprinkle each slice with parmesan cheese and place under the broiler until the bread is toasty brown and cheese is melted. Remove from the oven and place each slice in an oven proof bowl. Note: of the slices don't fit break them in half.

In a medium bowl add the shredded parmesan and gruyere cheese. Mix well. When soup is done cooking ladle it into each bowl and sprinkle with the cheese mixture. Make sure to get a good amount of cheese on top. Place the soup under the broiler until melted and bubbly.

Serve nice and hot from the oven.