In the summer time when I am entertaining I try to cook dishes that are easy to make, feed a lot of people, and make clean up a breeze. Paella is one of those meals! It requires a small amount of prep work and will feed a good size dinner party. I love the seafood version, giving all of your guests a variety of flavors.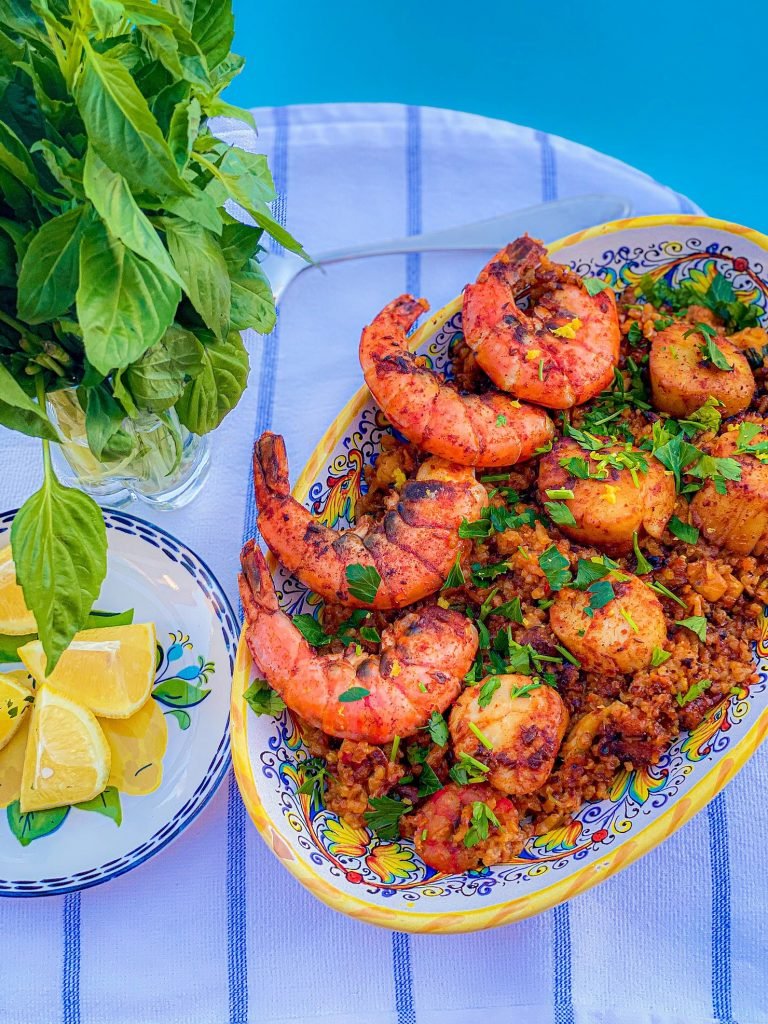 Seafood Paella Recipe
Serves- 4-6 people
Prep/Cook Time- 90 minutes
Ingredients:
-1 pound of shrimp 
-1 pound of scallops
-1/2 pound of crab
-1 pound of chorizo
-4 cups of Bomba rice (paella rice)
-6 cups of chicken stock
-4 cups of dry white wine 
-2 cups of clam juice
-1/4 cup of garlic 
-1 tsp of saffron
-olive oil
-1 small onion finely chopped
-1 can of crushed tomatoes 
-1 medium onion finely chopped 
-1/2 cup of flat leaf parsley chopped 
-3 tbsp of paprika 
-2 tbsp of cumin seeds
-4 tbsp of butter
-juice of 1/2 lemon 
-Large paella pan or other deep skillet
Directions:
In a large stockpot melt 1 tbsp of butter over medium heat. Season your scallops with salt and pepper. Place scallops in your hot pan to sear on each side until nicely browned. Next, add a couple tablespoons of garlic and sauté for a minute or two until fragrant. Stir in 1 tbsp of paprika and cook for 1 minute.
Once all of those steps are completed you will want to add the rest of your butter into the mixture and allow it to melt. Add 1 cup white wine, lemon juice, 2 tbsp of parsley, and saffron, bring to a boil. Once the mixture has reached a small boil add your shrimp to the mixture. Place a lid on top and reduce heat to
medium/low and let steam in the broth until cooked, probably about 10-15 minutes. Once cooked remove from heat, poor mixture in a large bowl, cover and set aside.
In the same pot add your chicken stock, clam juice, and the rest of your white wine. Bring to a low boil over medium/high heat. Once boiling reduce heat to low.
Heat your large skillet to medium heat. Coat the bottom of the pan with olive oil.
Add your ground chorizo to the pan and sauté, breaking up the mixture until nicely browned. Add your onions and sauté until translucent, stirring often. Add the rest of your garlic and cook for 1 minute. Add your tomatoes, rice and broth from your seafood mixture, mix all together. Smooth out the rice to form a nice layer in the pan.
Now, you can start adding your stock mixture. I use a large ladle to pour the stock mixture into the pan. Be sure to pour enough liquid to into the pan to cover your rice mixture, you should see about 1/4 of an inch of liquid on top of the rice. Add your seafood to the pot, including crab, placing it on top of the rice mixture. Continue adding your liquid to the pan and allow rice to continue cooking, about 20 minutes. When the time is up and make sure the the liquid has completely absorbed into the rice. You want your rice to be tender but not mushy. This should take another ten minutes or so. When Paella has fully cooked remove from heat and sprinkle with chopped parsley.
Serve with lemon wedges on the side.