Mexican Beef Stew is a delicious version of the traditional beef stew that people grow up with. It combines a mixture of spices and flavorful ingredients that make the dish mouth watering. Simmered in the sauce for two hours, the short ribs are so tender and juicy, basically falling off the bone. The meat that is used in this dish is grass fed so its full of nutritional value and its quality is superb. This dish is so versatile because it can appeal to people who have certain dietary restrictions such as; gluten free and/or paleo. Serve the Mexican Beef Stew with a side of corn tortillas, salsa, beans, street corn or whatever sounds good to you and your family.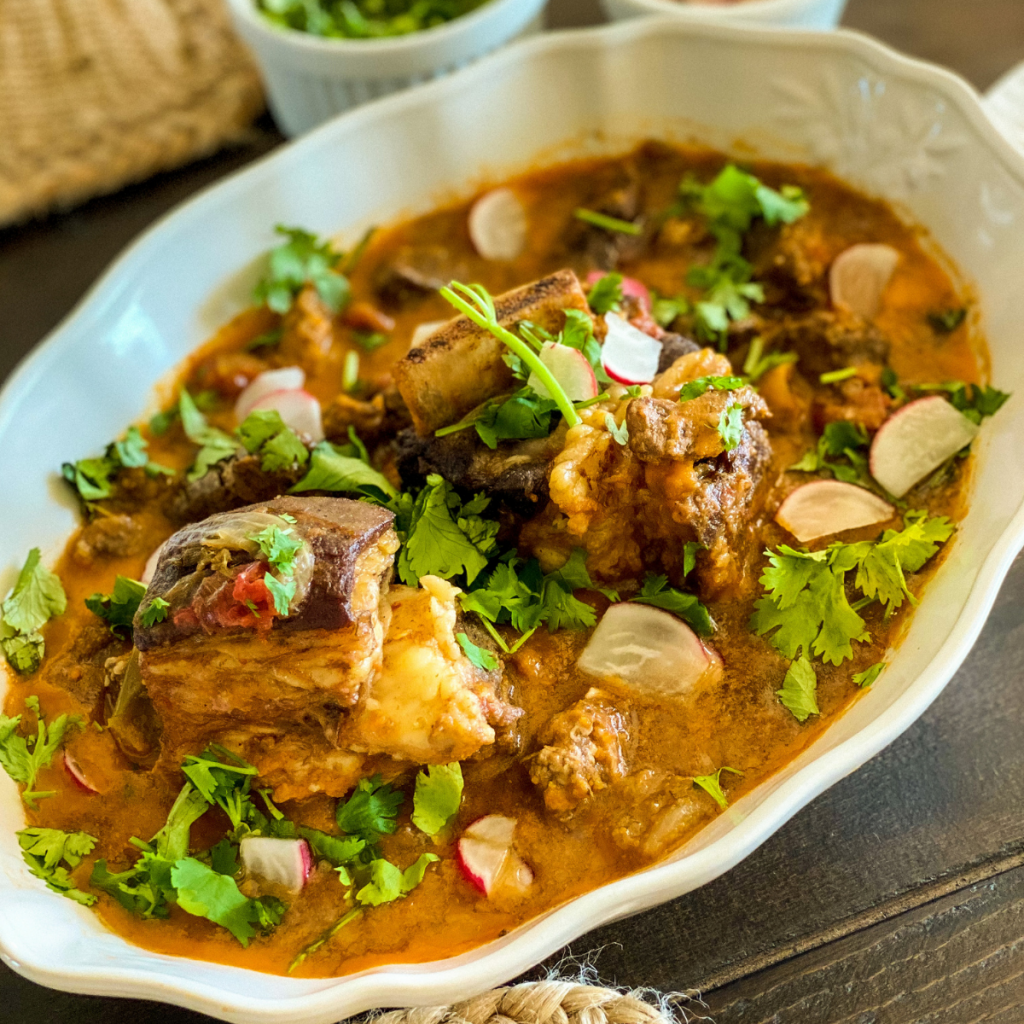 What meat is best for beef stew?
Your local grocery store or butcher can give you a nice selection of beef that would go well in your stew. This recipe uses beef short ribs and beef stew meat because they are meats that can be cooked for several hours and will help to tenderize them. Make sure the meat you do purchase is quality and preferably grass fed.
What flavors this beef stew?
This recipe uses a few different spices, along with beef broth to add natural flavor and spice to the dish. The spices that are used in this dish are:
ground coriander
ground cumin
paprika
chile powder
bay leaves
himalayan salt
pepper
Combined all of these spices create a tasty Mexican Beef Stew that is sure to excite your taste buds.
How to make sure your beef doesn't turn out tough.
It's important that when you're making this recipe to let the the beef simmer for the appropriate amount of time. A minimum of two hours is what is recommended. Once two hours is up taste the meat to make sure its tender enough. If you feel that it is still a little bit tough or chewy in texture then allow it to simmer a little longer until its tender. If you can get a good quality stew meat it will help reduce the cooking time.
What you will need for this recipe
large stock pot with fitted lid
cutting board
chopping knife
wooden spoon
large plate for the meat
tongs to flip the meat
small bowl for mixing roux (flour and water mixture)
serving bowl
What to serve on the side
This dish goes great by itself or served with a side of tortillas to make tacos. Fresh salsa, crema (Mexican sour cream), cheese, beans, chopped cilantro, chopped radish, and street corn would also be wonderful with this dish. Whats nice is this recipe can be versatile and easily combined with different side dishes.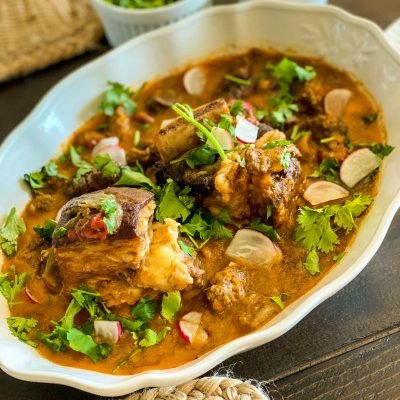 Mexican Beef Stew
Grass fed beef short ribs simmered in a beautiful blend of Mexican spices, chiles, onions and garlic to create a delicious stew.
Ingredients
1

large

onion-loosely chopped

1

Anaheim green pepper- seeded and loosely chopped

any hot green pepper can be used

1

jalapeño- sliced with seeds

6

cloves

garlic- minced

4

large

tomatoes- loosely chopped

3

bay leaves

1

tbsp

cumin

1

tbsp

coriander

1

tbsp

chili powder

1

tbsp

paprika

2

tsp

salt/pepper

4

cups

beef broth

2

Ibs

beef short ribs

2

Ibs

beef stew meat

2

tbsp

olive oil

1

tbsp

flour/flour substitute

1

tbsp

hot water

1/4

cup

cilantro-chopped
Instructions
Season the beef short ribs and stew meat with salt and pepper. Heat a large stock pot over medium heat and add olive oil. When oil is hot add your meat to the pot and brown both sides. About two minutes on each side.

When meat is brown add your chiles, onions, garlic, and all of your spices. Saute for a few minutes until the onions start to soften. Next, add your tomatoes and bay leaves to the pot and saute for another minute or two. When this is done you will add your beef stock. Bring the mixture to a boil and then cover with a lid and reduce heat to medium/low. Let the mixture simmer for two hours.

When two hours is up remove the lid and taste a piece of meat with sauce to make sure its tender and seasoned well. Add salt/pepper if the sauce needs it.

Remove the meat from your pot and place on a plate. Set aside until ready to use. Next, mix your water and flour in a small bowl to form a paste. Add this paste (roux) to your sauce, stirring constantly as you combine the mixture. Stirring will help ensure that lumps dont form. Bring the mixture back to a boil and let it thicken. Once sauce has thickened reduce heat to low and remove bay leaves from the pot.

This step is optional.

Using a hand blender, blend the mixture to create a smooth sauce.

Add your meat back into the pot and stir to combine with the sauce. Place the stew in a large serving platter and garnish with chopped cilantro.